The Upper Burdigalian scleractinian corals from Bonifacio (South Corsica).
Les coraux scléractiniaires du Burdigalien supérieur du Bassin de Bonifacio (Corse-du-Sud)
In Upper Burdigalian time, coral reefs developed within the Cala di Labra Formation, in the Bonifacio area (South Corsica, France). They are organized into three successive coral reef episodes R1, R2 and R3. The coral fauna comprising 16 reefal species, is described in detail for the first time. Two coral associations are observed. The major framebuilders are Porites Link, 1807, Tarbellastraea Alloiteau, 1950 and Thegioastraea Sismonda, 1871. The coral diversity is maximum (15 species, 8 genera) during R1, then lower during R2 (4 species, 3 genera). Corals of the R3 episode are poorly preserved, so unable for systematic identification. The coral growth forms are mostly tabular massive. The colonies lived under high to moderate energy conditions (ripple-marks, abraded bioclasts, few branching colonies), and permanent siliciclastic inputs. Buildups are mainly fringing reefs with discrete vertical zonation, deposited into shallow water platform domain. This study also synthesizes the coral species previously mentioned in the regional literature and replaces these remarkable coral reefs within the evolution of the Ligurian-Provençal Basin.
Au Burdigalien supérieur, des récifs coralliens se sont développés dans la Formation de Cala di Labra, aux alentours de Bonifacio (Corse-du-Sud, France). Ils sont organisés en trois épisodes successifs R1, R2 et R3. La faune corallienne comprenant 16 espèces récifales, est décrite pour la première fois. Deux associations coralliennes sont distinguées. Les principaux genres constructeurs sont Porites Link, 1807, Tarbellastraea Alloiteau, 1950 et Thegioastraea Sismonda, 1871. La diversité corallienne est maximale avec 15 espèces (8 genres) dans l'épisode R1, puis réduite (4 espèces appartenant à 3 genres) pour l'épisode R2, l'épisode R3 renfermant des coraux mal préservés pour être identifiés. Les formes de croissance sont en grande majorité massives étalées et superposées, associées à des conditions paléoenvironnementales de haute à moyenne énergie (rides de courant, bioclastes usés, peu de formes branchues), sous apports terrigènes réguliers. Les récifs, pour la plupart frangeants et à zonation récifale discrète, se sont développés en domaine de plate-forme peu profonde. Cette étude reprend également toutes les citations d'espèces dans la littérature pour cette région et replace ces épisodes coralliens remarquables dans l'évolution plus générale du Bassin Liguro-Provençal.
Fichier principal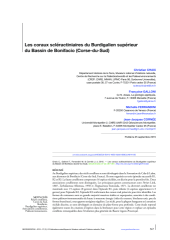 g2015n3a5-high.pdf (4.45 Mo)
Télécharger le fichier
Origin : Publisher files allowed on an open archive