The program GESSOL 2: impact of agricultural practices on organic matters and soil functions
Le programme GESSOL 2 : impact des pratiques agricoles sur les matières organiques et les fonctions des sols
It is accepted unequivocally, that the non-renewable soil heritage, on a scale of human generations, imposed to preserve soils and eco- system services they provide, such as food production and biomass, regulation and filtering water, mitigation and adaptation to climate change, conservation of biodiversity. In 1998, the Ministry for the Environment has set up the program GESSOL (acronym built from the words "gestion" and "sol", i.e. respectively management and soil", the full title of the programme being "Environmental functions of soils - Management of the soil heritage"). In France, GESSOL is the first and only program of research specifically devoted to soils and their functions as a whole. The second call for research proposals, launched in 2003, known as GESSOL-2, concerned the "impact of agricultural practices on soil and water, and transfers of pollutants to water systems". Among the project financed by GESSOL-2, soil organic matter (SOM) have emerged as the main unifying theme, in particular, when concerning the research axis on "the influence of agricultural practices on soil quality and modalities of sustainable management". The programme GESSOL-2 has funded six projects related to SOM and involving different regulation services concerning risk, disease, erosion, and climate. In this thematic issue of Etude et Gestion des Sols, those projects are subject to detailed articles presenting the main results. The next step of GESSOL, initiated in 2008, aims to put these results in relation with human and social aspect to better showcase the many services provided by soils through the diversity of their functions.
El programa GESSLL 2: Impacto de las prácticas agrícolas sobre las materias orgánicas y las funciones de los suelos. Se admite de una manera univoca que el carácter no renovable del patrimonio suelo, a escala de las generaciones humanas, impone preservar los suelos y los servicios eco-sistémicos que rinden, como la producción alimentaria y de biomasa, la regulación y la filtración de las aguas, la atenuación y la adaptación al cambio climático, la conservación de la biodiversidad. En 1998, el ministerio en carga del medio ambiente desarrolló el programa GESSOL (funciones ambientales de los suelos - GEStión del patrimonio SOL (suelo)). En Francia, GESSOL está el primero y el solo programa de investigación específicamente dedicado a los suelos y a sus funciones en su globalidad. La segunda llamada a proposiciones de investigación, en 2003, conocida bajo compendio GESSOL-2, trató sobre "el impacto de las prácticas agrícolas sobre los suelos y las transferencias de agua y de contaminantes hacia los hidrosistemas". Las materias orgánicas de los suelos (MOS) se impusieron como el principal tema unificador de los proyectos que concernieron, en particular, el eje de inves- tigación sobre "la influenza de las prácticas agrícolas sobre la calidad de los suelos y las modalidades de una gestión sostenible". El programa GESSOL financió así 6 proyectos en vínculos con las MOS: estos proyectos conciernen los servicios dichos de "regulación": regulación de los riesgos, regulación de las enfermedades, regulación de la erosión, y regulación del clima. En este número especial de Estudio y Gestión de los Suelos, estos proyectos hacen el objeto de artículos detallados que presentan los principales resultados. La continuación del programa GESSOL, empezado en 2008, quiere integrar este tipo de resultados a la esfera humana y social para poner mejor en valor los numerosos servicios dados por los suelos gracias a la diversidad de sus funciones.
Il est admis de manière univoque que le caractère non renouvelable du patrimoine sol, à l'échelle des générations humaines, impose de préserver les sols et les services écosystémiques qu'ils rendent, tels que la production alimentaire et de biomasse, la régulation et le filtrage des eaux, l'atténuation et l'adaptation au changement climatique, la conservation de la biodiversité. En 1998, le ministère en charge de l'environnement a mis en place le programme GESSOL (fonctions environnementales des sols -GEStion du patrimoine SOL). En France, GESSOL est le premier et le seul programme de recherche spécifiquement consacré aux sols et à leurs fonctions dans leur ensemble. Le deuxième appel à propositions de recherche, lancé en 2003, connu sous l'abrégé GESSOL-2, portait sur l'« impact des pratiques agricoles sur les sols et les transferts d'eau et de polluants vers les hydrosystèmes ». Les matières organiques du sol (MOS) se sont imposées comme le principal thème fédérateur des projets qui ont concerné, en particulier, l'axe de recherche sur « l'influence des pratiques agricoles sur la qualité des sols et les modalités d'une gestion durable ». Le programme GESSOL a ainsi financé 6 projets en lien avec les MOS : ces projets concernent les services dits de « régulation » : régulation des risques, régulation des maladies, régulation de l'érosion et régulation du climat. Dans ce numéro thématique d'Etude et Gestion des Sols, ces projets font l'objet d'articles détaillés qui en présentent les principaux résultats. La suite du programme GESSOL, initiée en 2008, ambitionne de replacer ce type de résultats dans la sphère humaine et sociale pour mieux mettre en valeur les nombreux services rendus par les sols grâce à la diversité de leurs fonctions.
Fichier principal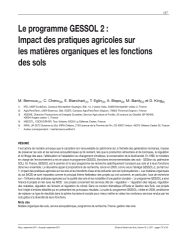 EGS_18_3_Bernoux_1.pdf (872.53 Ko)
Télécharger le fichier
Origin : Files produced by the author(s)