Einzelschuss Wellenfront Charakterisierung von hohen topologischen Ladung extrem-UV Wirbel
Single-shot wavefront characterization of high topological charge extreme-ultraviolet vortex
Caractérisation mono-tir du front d'onde d'un vortex extrême ultra-violet de haute charge topologique
Wir präsentieren eine experimentelle Intensität und Wellenfront-Charakterisierung des Infrarot-Laser sowie den extremen ultravioletten Wirbel, der durch hohe harmonische Erzeugung in einem Medium der erweiterten Generation erhalten wurde. In einer langen Fokussierungsgeometrie ermöglicht ein intensiver Wirbelstrahl, der durch phasenangepasste, absorptionsbegrenzte hohe harmonische Erzeugung in einer 15 mm langen mit Argon gefüllten Gaszelle erhalten wird, die Einzelschuss-Charakterisierung der Wirbelstruktur. Darüber hinaus validiert unsere Studie das Erhaltung Gesetz der Drehimpulses auch für ein solches Medium der erweiterten Generation.
We present an experimental intensity and wavefront characterization of the infrared vortex driver as well as the extreme ultraviolet vortex obtained through high harmonic generation in an extended generation medium. In a loose focusing geometry, an intense vortex beam obtained through phase-matched absorption-limited high harmonic generation in a 15 mm long Argon filled gas-cell permits single-shot characterization of the vortex structure. Moreover, our study validates the multiplicative law of momentum conservation even for such an extended generation medium.
Nous présentons une caractérisation expérimentale de l'intensité et du front d'onde d'un faisceau laser vortex infrarouge, ainsi que du vortex extrême ultraviolet obtenu par génération d'harmoniques d'ordre élevé dans un milieu générateur long. Dans une géométrie de longue focalisation, nous obtenons un faisceau vortex intense par génération d'harmoniques en régime d'accord de phase limité par l'absorption dans une cellule d'argon de 15mm, permettant ainsi une caractérisation mono-tir de la structure vorticielle. Notre étude valide également la loi de conservation du moment cinétique, même dans un milieu de génération étendu.
Fichier principal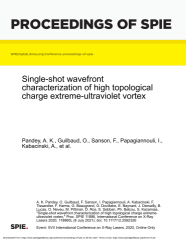 118860L.pdf (945.4 Ko)
Télécharger le fichier
Origin : Publisher files allowed on an open archive